Bilete cu locuri rezervate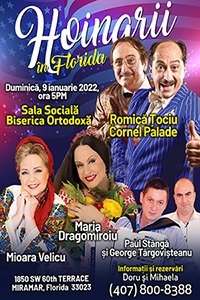 Categorii de bilete (toate taxele sunt INCLUSE):

65$ - Bilet pentru adult
40$ - Bilet pentru copil intre 5 si 12 ani, cu loc rezervat

Copiii sub 5 ani intra gratuit, dar nu au loc rezervat


IMPORTANT:
Locurile sunt rezervate LA MASA pe care o alegeti, dar NU SUNT numerotate si NU AU o pozitie prestabilita in raport cu masa.
Refund Policy
1. Tickets are fully refundable within 48 hours after purchase.
2. No refunds starting 1 week prior to the event date.