Concert of Theodosii Spassov Folk Quintet - New York
15 Year Anniversary CONCERT
NEW YORK, NY

CONCERT of THEODOSII SPASSOV FOLK QUINTET
15 Year Anniversary CONCERT

Wednesday, September 27, 2023 at 7:30pm
The Hungarian House (213 East 82nd St, New York, NY 10028)

TICKETS (No reserved seats)

Online and Advanced tickets
35$ - Adult
20$ - Student
FREE - Child under 12

A convenience fee of $2.00 is added to the price of each ticket.

At the door
40$ - Adult
25$ - Student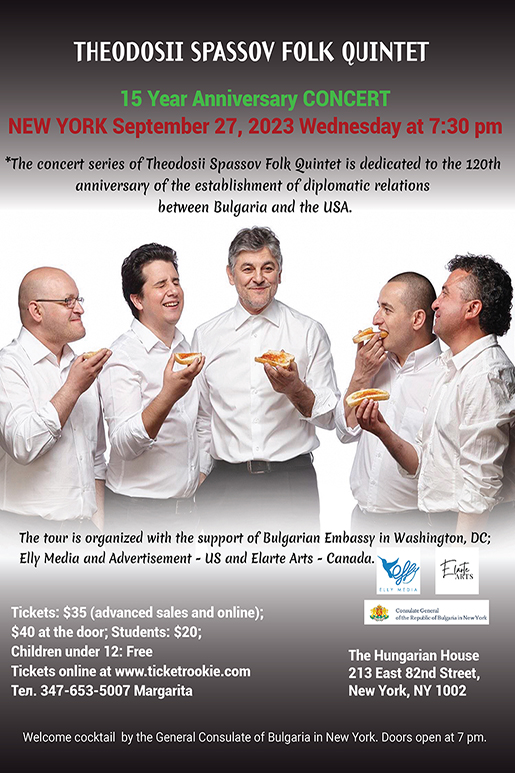 Click here to buy tickets (secure payments via PayPal with credit or debit card)
When
: September 27, 2023 at 7:30 pm
Venue
: The Hungarian House
Address
:
213 East 82nd St , New York, NY, 10028

You do NOT need to have
or to create a PayPal account
in order to buy tickets.
After selecting your tickets, when you land at PayPal website, just scroll down a bit and you will see: "OR pay by credit or debit card"


The concert series of Theodosii Spasov Folk Quintet is dedicated to the 120th anniversary of the establishment of diplomatic relations between Bulgaria and the USA.

The tour is organized with the support of Bulgarian Embassy in Washington, DC
Elly Media and Advertisment - US
Elarte Arts - Canada.



More info & Paper Tickets
(347) 653-5007 Margarita

Location
213 East 82nd St
New York, NY, 10028
Events organized / promoted by Elarte Arts

Past ...